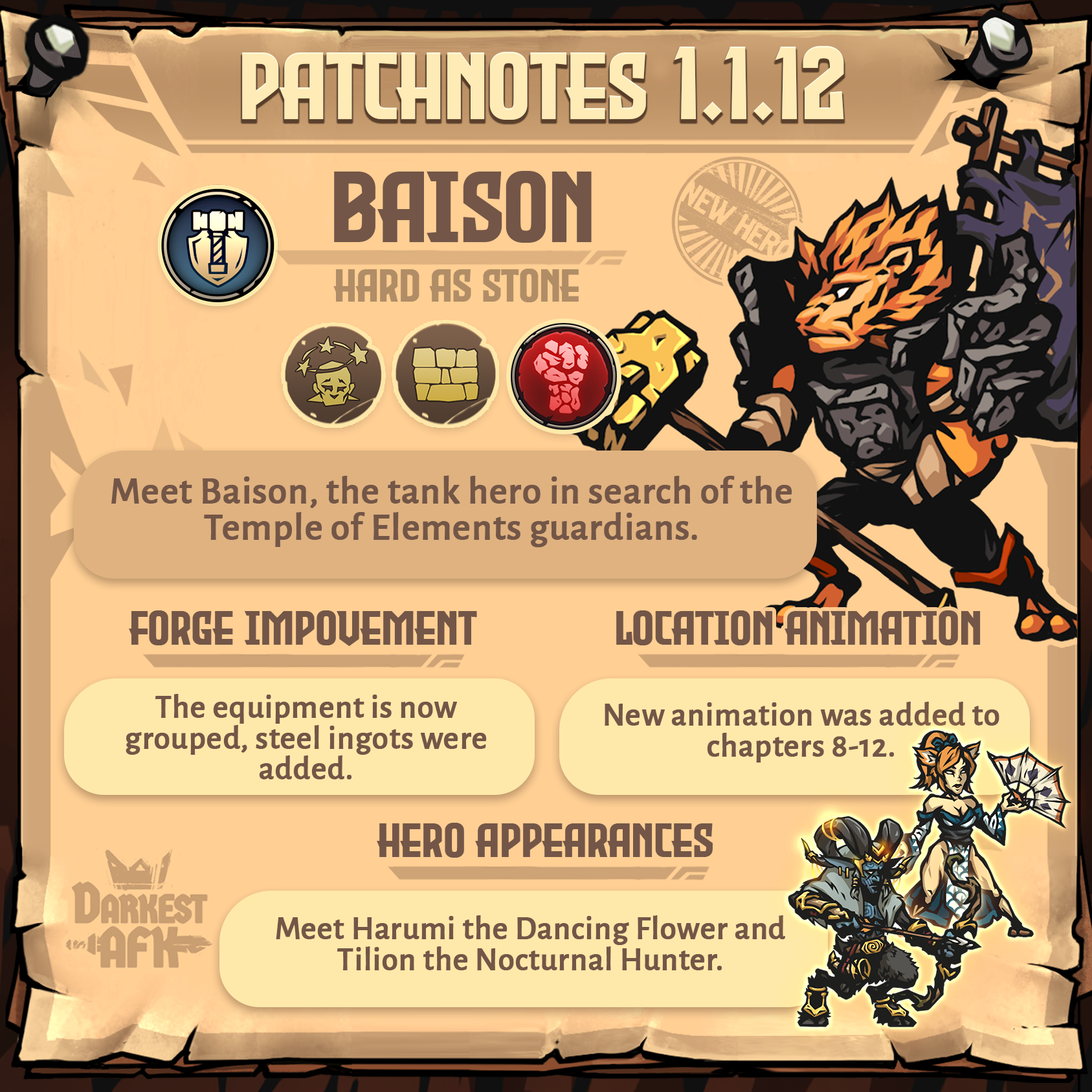 Patchnotes 1.1.12
A brand new update is live on Android and iOS!
New hero
Meet Baison — the lion hard as stone. He seeks the Temple of the Elements guardians who were scattered around the darkest world as a result of the Warlock's attack. The lion has a heavy hammer that he uses to deal damage and stun at the same time. His armor is also hard to break: it has several layers and even if they break, they will deal damage.
Forge improvement
Now the equipment items in the Forge are grouped by their quality and type. Equipment of different grades have a different number of stars.
Steel ingots for equipment enhancing
You can also use new steel ingots to upgrade the items. Upon reaching the Desert of Oblivion, low-grade equipment will gradually begin to be replaced with steel ingots that have corresponding ranks. The equipment display is now more comfortable visually which makes the forge more convenient to use.
New Hero Appearances
Harumi acquired a new outfit for her performances and Tilion turned into a night hunter. Enjoy the new appearances in the wardrobe.




Location Animation
New animation was added to the following chapters: Untamed Jungles, Abandoned Harbor, Pirate Bay, Forest of Light and Desert of Oblivion. Both main campaign screen and battlefield background were animated with waves, swinging sails, rain and other things.
Attack Sound Fix
The issue causing heroes to have no attack sounds in early chapters has been fixed.
Check out the game's page store to download the latest version of the game.
< Back to news
Coming Soon: the Darkest Mines

Gift Code 1.1.24

Patchnotes 1.1.24